7 month update
He may be the largest seven month old in town, weighing over 900 lbs and gaining 2-3lbs a day! His food intake is now almost the same as the adults, and he doesn't nurse as frequently from mom Ashakiran, he is becoming much more independent.
He is doing great in his training program with our Keepers, where he is learning how to open his mouth, turn around, and touch a target, when the Keepers ask him to. These are all tasks that will help ...facilitate regular health checks as he grows bigger. Target training in particular involves touching the target with his nose, which is then confirmed by the Keepers by a blow of a whistle, and lets him know he will be rewarded with a treat!
Target training is one of the first steps in our behavioral husbandry program at the Toronto Zoo. It is a foundation for future training practices to build on behaviours through positive reinforcement. Target training is 100% voluntary and involves asking an animal to present a required body part by touching an object. This form of training is used for a variety of behaviours, including guide the animal to a specific location including scales for taking weights, pin pointing specific body parts for visuals or medical procedures which you may not be able to complete otherwise, and to build relationships between the animal and the Keeper staff. We also utilize this form of training for safety as it does not require contact with our keepers, but still provides a way to communicate with them through positive reinforcement.
---
6 month update
Not-so-little Nandu weighs 845lbs at 6 months old! He continues to learn new things, develop new personalities, and loves spending time in the wallow with mom.
---
5 month update
Nandu loves hanging out in the mud wallow with mom and often uses her body as a pillow to rest his head, and even she sometimes uses him as a pillow since he is getting so big! His horn is also starting to come through and you can see a little bump on the top of his nose. His appetite continues to grow, and he always joins mom at breakfast and dinner eating her diet, taking a special liking to bananas, cantaloupe and apples.
---
Hello My Name Is
NANDU!
Thank you to everyone who voted on our baby rhino's name!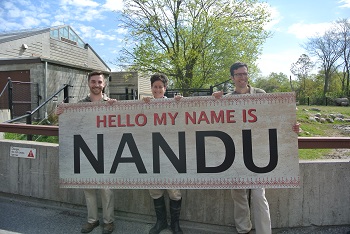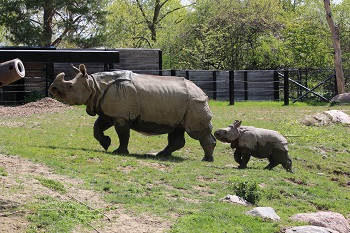 The public has spoken! With over 11,500 people voting in the Toronto Zoo's "Name Our Rhino Calf" promotion, a name has emerged as the favourite. "Nandu", pronounced None-do, meaning "one who is cheerful and happy" has been confirmed as the name for the Toronto Zoo's male Indian rhino calf! Three of the Zoo's Wildlife Care Indian Rhino Keepers each chose a potential name for the calf, but they just couldn't all agree on one name! Toronto Zoo asked the public to vote online to help decide on the BEST name for our rhino calf. The "Name Our Rhino Calf" promotion consisted of three names: Nandu, Kaziranga and Vihaan.
View the full release here
---
2 month update
Gaining approximately 5lbs per day, now weighing over 400lbs, our Indian rhino calf is the heaviest 2 month old in town! He continues to gain confidence, socializes with both mom and keepers, and loves his daily showers. Although he will continue to nurse for the next year, he is starting to mouth mom's food including straw, hay and bamboo leaves. Be sure to visit him and mom, Ashakiran today!
---
Our rhino calf is now five weeks old!
This "little" guy is now over 200lbs and has become quite brave, often venturing further from mom Asha and interacting more with our Keepers. Although still nursing, he is starting to mouth some food including bamboo, apple, browse and carrots that Keepers provide Asha, but he doesn't consume it quite yet.
He loves his afternoon showers, and is often observed playfully rolling around in the water and encouraging mom to come play with him. Take a look:
---
3 week update
Now weighing over 140 lbs, our male rhino calf is becoming very active! Keepers have noted that he really likes to play with mom and follows her everywhere she goes, often trotting after her when there is a distance between the two of them. Asha has been a very caring mom, seen nudging him around when he is not following her or if she is heading in a direction that she wants him to go. She is also very patient when he climbs on her head to play when she's laying down!
He continues to be healthy and feed well, nursing 100% from mom's milk. Note that this is still a critical time for our little guy and Zoo staff continue to monitor him and mom closely.
---
On February 17, 2016 at 9:42 pm, a male Indian rhino calf was born to mother Ashakiran and father Vishnu. After a gestation period of approximately 425 – 496 days (or 16 months), Ashakiran (affectionately known to her keepers as Asha) was moved from the public viewing to a maternity area in January where she was monitored closely by Zoo staff. The first 30 days are critical for both the mom and calf, however the calf appears healthy and is feeding well.
Be sure to visit our rhino baby and mom today!