One Year Update
Now after his very first birthday, Humphrey has grown to be over 216 lbs! He is not our little polar bear cub anymore, but rather looking more like an adult bear each day.
Humphrey continues to be an adventurous bear and loves to explore his new habitat in the Tundra Trek. He has now grown big enough to have access to the big polar bear habitat with a much larger pool. You will often see him showing off his playful personality with the enrichment toys he is given daily, and will catch him taking a plunge in the pool multiple times a day.
His latest milestone is that he can now dive to the bottom of the pool to get fish thrown during the keeper talks, which is a great sight in the underwater viewing area. Humphrey has access to the big exhibit daily, in rotation with his mom Aurora and aunt Nikita.
Training exercises continue with Humphrey as well, as he is currently doing 'target' training with his paws. This is when he is asked to place his paws on a target to allow keepers to do a safe health check and potentially work up to taking voluntary blood draws as well as injection training for his vaccines.
Take a look
here
at Humphrey enjoying a special treat for his first birthday celebrations!
Seven Month Update
Our little Humphrey is not so little anymore! Now 7 months old, he has grown to be over 50 kg and continues to look more like a little adult polar bear each day.
He has become quite an adventurous bear as he continues to explore his habitat in the Tundra Trek. You will often catch Humphrey showing off his playful personality with the enrichment toys he is given daily, playing with trees within his exhibit and lately making quite a splash! Our little bear is now swimming in his very own pool and keepers note that this seems to be a daily routine for Humphrey, as his fur is usually soaked by the end of the day.
Behavioural training continues to go well with our polar bear cub. A newer exercise that has been introduced to Humphrey is called "lean in" which encourages him to come perpendicular to the mesh. This is for the safety of our cub in case he ever needs any medical procedure that requires him to come close, such as an updated shot or blood sample. Currently, our keepers practice with him in order to get him used to the new sensation if ever needed. Continued learning as a young cub will allow keepers to monitor his health as well as prepare him for any procedures that may need to happen as he develops.
As for his diet, Humphrey has hit a new milestone where he has actually moved up from small eye smelt to medium smelt. This means that he is now required to actually chew them instead of just swallow, which is great for those growing teeth. He is now also getting a special large "fishsicle" every Friday which he loves!
Zoo staff continue to learn more about our cub and see development in both his size and behaviours on a weekly basis. We look forward to watching his continued growth into what we expect to be a large adult polar bear!
Four Month Update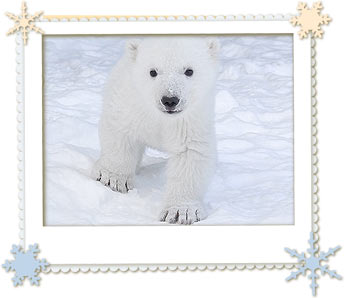 Now over 4 months old, our cub is really starting to grow! Living permanently in the Tundra Trek, he has become much more independent and continues to exhibit natural polar bear behaviours. As a result, keepers only have protective contact with him now, which means they do not handle him directly as they did when he was first born.
No more bottle feeding for this cub! He now eats mostly solid foods from a dish, including an increased amount of meat in his diet and he has also been introduced to fish. Behavioural training has begun since he moved to his new home and keepers have noted that he is doing very well. This includes continued scale training to ensure he is gaining weight appropriately, as well as opening his mouth for oral inspections and raising his paws so the keepers can inspect his pads. Learning this as a young cub will allow keepers to monitor his health as he continues to grow into a large adult polar bear.
Our newest milestone for our cub is that he now has a name! Starting February 11th, visitors were able to vote on one of six names for our adorable polar bear cub, and after over 14,000 people cast their votes, his name was finally revealed on March 6th, 2014. With his epic reveal video pulling off the blanket himself, our cub showed his audience that the top voted name was...
Click here to see video
.
Two Month Update
Surpassing his two month milestone on January 9th, 2014, our polar bear cub has reached some exciting new stages in his development, growing much larger with a big personality to match. Weighing in at 4.4 kg at day 70, he is now feeding 5 times a day and even from a dish on his own as well. Teething, taking his first steps, and now having eyes open with more awareness of his surroundings have all been exciting milestones for Zoo staff to experience. Over the last month, there has also been an air conditioner installed in his room to keep a cool temperature and he has been introduced to snow both indoors and outdoors. He is a polar bear after all!
Working with him closely on a daily basis, Zoo staff have indicated he is a very playful cub and responds positively to staff when feeding and playing with him. He works hard to climb, has started play biting and wrestling and gets very sleepy after play time - just as babies do. Zoo staff continue to learn more about him on a daily basis and see developments in both his size and behaviours on a weekly basis. Looking forward to what month three brings!
One Month Update
On Saturday, November 9, 2013 the staff was delighted to find that Aurora, one of the Toronto Zoo's two female polar bears, gave birth to three male cubs. Despite Aurora showing perfect maternal instincts, including nursing the cubs shortly after their birth, our staff were saddened to discover that two of the three cubs did not survive the first 48 hours.
After monitoring Aurora and the remaining cub 24 hours a day, on Monday, November 11, 2013 staff observed the lone cub no longer moving as strongly as before and a decision had to be made. The best chance of survival meant transferring the cub, which weighed less than 700 grams, to the Zoo's intensive care unit in the Wildlife Health Centre (WHC).
Once the cub was moved to the WHC, our team consisting of veterinary staff and animal care experts began the continuous process of monitoring his temperature, taking blood samples, weighing him and feeding him a special formula to help build up his strength.
In his first month, Zoo staff were excited to see that our cub surpassed many milestones as he continued to grow stronger each day. He began showing his contentment by purring, started crawling, rolling over, and even standing on all four paws as he became stronger. With seven feedings per day, each followed by an exercise session, our cub showed positive signs of growth and development.