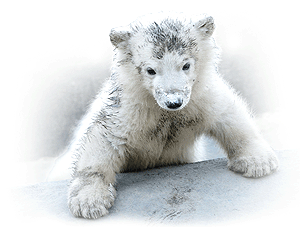 Why it's important
Toronto Zoo has a long history working with Polar Bear International (PBI) on numerous fronts. We have been very fortunate to have staff participate in their Leadership Camp program in Churchill, which challenge participants to return home and promote conservation efforts for polar bears.
Toronto Zoo is also a very active player with Acres for the Atmosphere which is a zookeeper initiated program founded in 2009 between PBI, American Association of Zoo Keepers (AAZK) and Frontier North to help educate and raise awareness on the issues polar bears are facing in the wild like global warming. They are actively engaging the community in tree planting to decrease CO2 emissions and raise awareness. Our local Toronto Zoo AAZK chapter has partnered with Symcor and have planted a total of 1,284 trees and plants with many more to come.
Another very important partnership is working with several universities and leading scientists like Dr. Ian Sterling on polar bear research. Dr. Sterling is an Adjunct Professor in the Department of Biological Sciences at the University of Alberta. He holds a Bachelor and Master of Science from the University of British Columbia in Vancouver. He also holds a Ph.D. from the University of Canterbury in Christchurch, New Zealand where he studied the population ecology of Weddell seals in Antarctica. Given the rapid environmental changes that polar bears are facing, it is vital to understand how these changes will affect wild polar bear populations. We are collaborating in many research projects including non-invasive reproductive monitoring, behavioural assessments, olfactory communication, polar bear growth, bio-energetic's, and changes in prey species in the diet to DNA work. All of this research has a direct impact on understanding and saving polar bears in the wild.
The Toronto Zoo is a champion for Canada's majestic polar bears listed as vulnerable by the International Union for Conservation of Nature (IUCN) but are at risk of becoming endangered if global warming is not addressed. The Zoo works closely with other Zoological associations and conservation institutions, including North American Species Survival Plan (SSP) in valuable polar bear education, research and conservation efforts in the wild. "Polar bears are one of Canada's National treasures and we cannot afford to risk polar bears from becoming extinct," said Maria Franke Curator of Mammals at the Toronto Zoo, "It's this team work approach that will make a difference."