Er Shun and Da Mao arrived from China in 2013 and are now very settled into their new temporary home at the Toronto Zoo. They spend their days eating a lot of bamboo, and both have become quite fond of the numerous enrichment items their keepers create and offer them daily to simulate the activities they would encounter in a wild habitat. Both pandas can be viewed daily in either their indoor or outdoor holding areas, depending on the season and the weather, and will be calling the Toronto Zoo home until spring 2018.
Er Shun – Female
Born:
August 10, 2007
Name Meaning:
Double Smoothness
Er Shun came to the Toronto Zoo from Chongqing China.
Da Mao – Male
Born:
September 1, 2008
Name Meaning:
First of Mao
Da Mao came to the Toronto Zoo from Chengdu, China.
Giant Panda Experience:
Learn more about giant pandas in this keeper talk presented by Maria Franke, Curator of Mammals.
Hours: Last admission one hour before Zoo closes. Current hours here
Giant Panda Interpretive Centre:
Before you get up close to our adorable new giant panda pair, you will have the chance to take in the new, stat-of-the-art Panda Interpretive Centre. This climate controlled centre features many interpretive and interactive elements for visitors to enjoy year round. Interpretive themes will include Eating Bamboo, Threats to Giant Pandas, and Saving Giant Pandas. After the Panda Interpretive Centre visitors will have a chance to see Da Mao and Er Shun in either their outdoor or indoor habitats.


Background: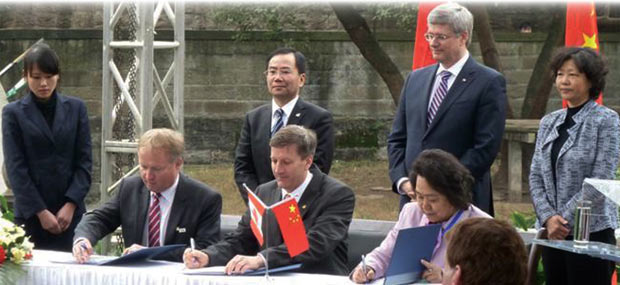 February 11, 2012 in Chongqing China.
Canadian Prime Minister Stephen Harper witnessing Toronto Zoo CEO John Tracogna and Calgary Zoo President and CEO Clement Lanthier, along with Mme Hu, VP, Secretary-General of the Chinese Association of Zoological Gardens, signing the official Giant Panda Cooperation Agreement confirming the arrival of Er Shun and Da Mao to Canada.
As part of a long-term conservation partnership agreement between China and Canada, signed by Hu Jintao, President of China and Mr. Stephen Harper, Prime Minister of Canada, China will loan two giant pandas to two Canadian Zoos (Toronto and Calgary) for a ten year period. The good news is that Toronto Zoo will be home to the breeding pair for a minimum of five years from 2013 to 2018. The pandas will then relocate to the Calgary Zoo sometime in 2018.
Should there be successful breeding while the pair are at the Toronto Zoo, the pandas, and offspring, would remain in Toronto until such time as it is approved to move them. "This acquisition reflects the dedication of several Zoo staff and Board members over the past twelve years who shared the vision of a giant panda conservation program at the Zoo," said Joe Torzsok, Chair of the Toronto Zoo Board.
Da Mao and Er Shun's new home is the beautifully renovated Amur Tiger Exhibit.