Meet Er Shun and Da Mao, our two newest and most popular Zoo members. Before you get up close to our adorable new giant panda pair, you will have the chance to take in the new, state-of-the-art Panda Interpretive Centre.This climate controlled centre features many interpretive and interactive elements for visitors to enjoy year round. Interpretive themes will include Eating Bamboo, Threats to Giant Pandas, and Saving Giant Pandas. After the Panda Interpretive Centre visitors will have a chance to see Da Mao and Er Shun in either their outdoor exhibits or in their indoor holdings. Either way, remember to bring your camera to catch our dynamic duo!
Giant Panda Experience Hours
Last admission one hour before zoo closes
For current hours -
click here
Background:
As part of a long-term conservation partnership agreement between China and Canada, signed by Hu Jintao, President of China and Mr. Stephen Harper, Prime Minister of Canada, China will loan two giant pandas to two Canadian Zoos (Toronto and Calgary) for a ten year period. The good news is that Toronto Zoo will be home to the breeding pair for a minimum of five years from 2013 to 2018. The pandas will then relocate to the Calgary Zoo sometime in 2018.
Should there be successful breeding while the pair are at the Toronto Zoo, the pandas, and offspring, would remain in Toronto until such time as it is approved to move them. "This acquisition reflects the dedication of several Zoo staff and Board members over the past twelve years who shared the vision of a giant panda conservation program at the Zoo," said Joe Torzsok, Chair of the Toronto Zoo Board.
Da Mao and Er Shun's new home is the beautifully renovated Amur Tiger Exhibit.
Meet Our Giant Pandas:
The Toronto Zoo is very proud and excited to the impending arrival of the giant pandas Er Shun and Da Mao.
Giant panda Er Shun (smooth) came to the Toronto Zoo from Chongqing Zoo, China and Da Mao, our male giant panda, came from Chengdu. Did you know that Chengdu, the capital of Sichuan Province, has a population of 11 million. For thousands of years, it has retained not only its name, and its position as the capital, but its importance as the centre of politics, commerce and the military of the Sichuan area. It is the place where the Southern Silk Road began and the first paper currency was printed. The Chengdu Panda Breeding and Research Centre is nearby as is the Wolong Panda Reserve.
Er Shun and Da Mao have settled in very well to their new habitat at the Toronto Zoo. They are eating a lot of bamboo and they both like the Aurea species. The giant pandas are currently getting young bamboo growth and they both LOVE it! The Zoo keepers weigh them regularly and Er Shun just out beats Da Mao weighing 100 kilograms and Da Mao weighs 99.8 kilograms.
The official CFIA quarantine is over and staff are allowing both giant pandas the chance to explore all of their new habitat areas. Both giant pandas are getting more and more curious with their new enrichment items and Da Mao loves to participate in his training sessions with the keepers. Er shun is slowly catching on to her training routine. Li and Wei the Chinese Giant Panda Experts have been a tremendous help working alongside the Toronto Zoo keepers and their expertise has been invaluable.
About The Giant Panda
Giant pandas live in a few mountain ranges in central China. They once lived in lowland areas, but farming, forest clearing, and other development now restrict giant pandas to the mountains. The giant panda is listed as endangered in the World Conservation Union's (IUCN's) Red List of Threatened Animals. There are about 1,600 left in the wild. Nearly 300 pandas live in zoos and breeding centers around the world, mostly in China.
Conservation


Did you know that the giant panda is an Endangered Species? While they are classed as carnivores, they have adapted to a vegetarian diet eating predominantly bamboo. Apart from their dependence on bamboo, the giant panda has a low birth rate of one cub every two years. These creatures play a crucial role in nature by spreading seeds and facilitating the growth of vegetation in the wild. While they do have natural predators, jackals, leopards, and the yellow-throated marten which eats their young, their most deadly predator is man. At one time giant pandas were much more widespread in China. Now they live in a few mountain ranges in Sichuan, Shaanxi and Gansu provinces. Human encroachment has driven the species from lowland areas to the mountains. The good news is that with renewed conservation efforts and the increase in protected reserves the number of giant pandas has begun to increase in some areas. In 2006 scientists believed that the wild population of giant pandas could be as high as 3,000.
What the Toronto Zoo is doing to support giant panda conservation? The Toronto Zoo supports a bamboo and habitat restoration project in China through the Endangered Species Reserve fund in collaboration with the Memphis Zoo. As well the Toronto Zoo employs a Reproductive Physiologist who not only investigates ways to improve the reproduction of endangered species will utilize her expertise for our very own breeding program for Er Shun and Da Mao.
Mountain Forest Dwellers
Giant pandas live in mountain forests with a dense undergrowth of bamboo, which is their main source of food.
The giant panda has lived in bamboo forests for several million years and is a highly specialized animal, with unique adaptations. About the size of an American black bear, giant pandas have large molar teeth and strong jaw muscles for crushing tough bamboo. Although these chunky, lumbering animals are undeniably adorable,
its best to view them from a distance, as giant pandas can be as dangerous as any other bear.
In the wild, a giant panda's diet is 99% bamboo. The other 1% consists of other grasses/herbs and occasionally small prey animals. At the Toronto Zoo, the giant pandas will be fed a diet that consists of fresh bamboo, leaf eater biscuits, apples, and occasionally sugar cane or icicles as a treat. Fresh bamboo will be 80 - 90% of the giant panda's diet and they will be offered between 42 to 64 kilograms (93 to 141 pounds) of bamboo each day. A giant panda's digestive system is more similar to that of a carnivore than a herbivore, and therefore most of the bamboo goes undigested, passing quickly through the digestive tract (giant pandas relieve themselves dozens of times a day). To make up for eating rather indigestible food, a giant panda needs to consume a comparatively large amount of it in order to extract enough nutrients. In order to obtain this, a giant panda must spend 10 to 16 hours a day foraging and eating. The rest of the time they spend mostly sleeping and resting. Approximately 600 to 900 kilograms (1,322 to 1,984 pounds) of fresh bamboo will be delivered to the Toronto Zoo's Giant Panda Experience per week and stored in cold storage refrigerators.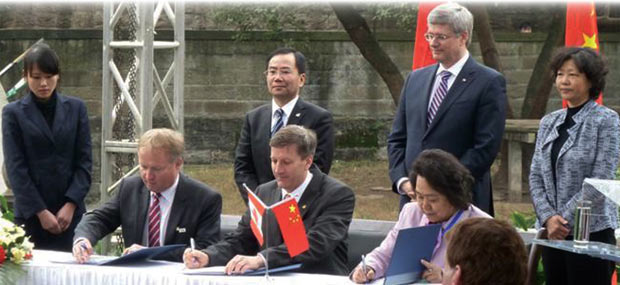 February 11, 2012 in Chongqing China.
Canadian Prime Minister Stephen Harper witnessing Toronto Zoo CEO John Tracogna and Calgary Zoo President and CEO Clement Lanthier, along with Mme Hu, VP, Secretary-General of the Chinese Association of Zoological Gardens, signing the official Giant Panda Cooperation Agreement confirming the arrival of Er Shun and Da Mao to Canada.