Vision Statement

Strategic Plan

Master Plan

Visitor Information

Accessibility

Accommodations

Admission

Adventures, Gifts &
Rentals

All We Do

Amur Tiger

Animal Enrichment

CityPASS

Directions & TTC

Discovery Zone

First Nation Art Garden

Food Services

For Your Safety

Hours

Kangaroo Walk-Thru

Map of Zoo

Meet the Keeper

Special Needs &
Services

Wild Encounters

Wildlife Health Centre

Winter Map

Animals

Games & Videos

Jobs & Careers

Organization

Business Opportunities

Meet our Zoo Partners

Sample your Product
Accommodations
Stay at the Zoo
We invite the adventurer in everyone to the Toronto Zoo for a night at Serengeti Bush Camp. You'll explore our African Savanna, meet the animals who inhabit it, and camp under the Serengeti stars. It's an unforgettable experience.
For more information click here
, or call 416-392-5947 for a list of available dates.
Sleep near the animals at a campground or hotel.
Campgrounds
Cedar Beach Park
15014 Ninth Line
Stouffville, ON
L4A 7X3
905-642-1700
Toll free: 1-877-588-8828
(OUTDOOR POOL)
Glen Rouge Park
7450 Kingston Road
Toronto, ON
416-338-2267
www.toronto.ca/parks
Hotels
STAY AT THE TORONTO ZOO'S
OFFICIAL HOTEL
Delta Toronto East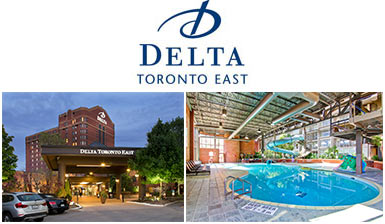 2035 Kennedy Road
Toronto, ON
M1T 3G2
416-299-1500
(INDOOR POOL)
Marriott.com/yyzsb
Best Western Executive Inn Toronto-east
38 Estate Drive
Toronto, ON
M1H 2Z1
Phone: 416-430-0444
www.bestwestern.com/executiveinnontario
email: 66088@hotel.best western.com
Chelsea Hotel, Toronto
33 Gerrard St W,
Toronto, ON M5G 1Z4
Phone: (416) 595-1975
Direct Toll Free: 1-800-243-5732)
Email: cstor.info@chelseatoronto.com
Website: www.chelseatoronto.com/en/
Comfort Inn Toronto Northeast
8330 Woodbine Ave
Markham, ON
L3R 2N8
Phone: 905-477-6077
Direct Toll Free: 1-866-477-6077
WWW.COMFORTINNMARKHAM.COM
Courtyard by Marriott Toronto Northeast Markham
7095 Woodbine Avenue
Markham, ON
L3R 1A3
Phone: 905-474-0444
For Reservations: frontdesk@courtyardtowneplacemarkham.com
www.marriott.com/yyzmt
Delta Toronto Simcoe
75 Lower Simcoe St.
Toronto, ON, Canada M5J 3A6
Phone: +1 416 849 1200
Email: delta.toronto@mariott.com
www.marriott.com/hotels/travel/yyzdl-delta-hotels-toronto/

Holiday Inn Hotel & Suites Toronto-Markham
10 East Pearce St,
Richmond Hill, ON – L4B 0A8
Phone: 905-695-5990
www.hiexmarkham.ca
InterContinental Toronto Centre
225 Front St W,
Toronto, ON M5V 2X3
Phone: 416-597-1400
Direct Toll Free: 1-877-660-8550
Email: torontocentre@ihg.com
Website: www.torontocentre.intercontinental.com
Monte Carlo Inns & Suites Downtown Markham
7255 Warden Avenue
Markham, ON L3R 1B4
Phone: 905-752-2700
Direct Toll Free: 1-877-752-2788
Email: downtownmarkham@montecarloinns.com
Website: www.montecarloinns.com/Downtown-Markham-Suites/downtown-markham
St. Regis Toronto
325 Bay St
Toronto, ON
M5H 4G3
Phone: +1 416 306 5800
Email: reservations.toronto@stregishotels.com
www.stregistoronto.com
The Westin Prince
900 York Mills Road
Toronto, ON
M3B 3H2
Phone: 416-444-2511
Fax: 416-444-9597
www.westinprincetoronto.com
Email: reservations@westinprincetoronto.com