Planning

Booking

Elementary

Self-guided Visit

Guided Tour

Full-day Workshop

Half-day Workshop

Conservation
Presentation

Educator Resources

Secondary

Outreach Opportunities

Zoo School
Half-day Workshop
We are currently accepting bookings for all school programs. For more information about the programs we offer or to make a booking, please email schools@torontozoo.ca or call 416-392-5944.
Grade Level:

2 & 6

Price:

$13 per student ($4 program fee + $9 student admission fee)
*Includes HST

Program Times:

10:00 am - 11:30 am (1.5 hours)
or
12:00 pm - 1:30 pm (1.5 hours)
*program start times can be adjusted slightly to match school's arrival time

Format:

Guided tour, discussions, hands-on biofacts (e.g. furs, feather, skulls, etc.), and activities

Location:

On-site

Capacity:

18-30 students per workshop
*For groups under 18 students, a minimum program fee ($72 per workshop) will apply.

Notes:

This is a Zoo staff-led program.
Please book early, as programs fill up quickly.
* Half-day workshops are available from September to June.
Grade 2 - Classification
While exploring the Indo-Malaya Pavilion, students will be amazed to learn about the differences between vertebrate and invertebrate animals. This engaging workshop will have the class exploring the fascinating characteristics of furry mammals, scaly reptiles, feathery birds, slippery fish, smooth amphibians, and scuttling insects through observation, discussions, tactile booklets, and cooperative activities.
Program Overview
Grade 6 - Biodiversity
Students will be amazed by the diversity of life that can be found within the rainforests of Africa. In this program, students will explore the African Rainforest Pavilion and discover how all living things are interconnected. Through observations, discussions, and cooperative activities, students will also identify ways that we can preserve biodiversity.
Program Overview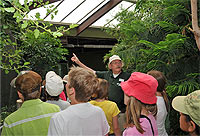 "The program was great! Very informative. The kids loved it and the parents who came thought it was great too!"
- John Wanless Public School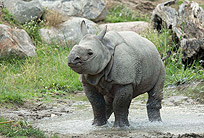 "The program was fabulous and completely engaging. I can't think of anything that I would change."
- Hillcrest Public School