Horticulture
LANDSCAPE DEVELOPMENT
Creating and renovating gardens, animal exhibits and picnic areas are ongoing projects for the Horticulture staff. Ongoing projects include the continuous updated design and planting of Kids Zoo, design and installation of flower beds flanking a new portable classroom, creating recreational meadow areas as outdoor classroom areas. Privacy berms planted with an eclectic combination of native plant material add an environmentally acceptable exclusivity to functions held at picnic facilities on site.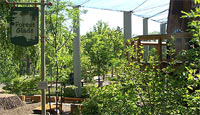 CULTURAL CONNECTIONS
Shamba Farm - With the cooperation of Horticulture staff and African Cultural Advisors, an authentic West African garden is established annually in Savannah. Volunteers from the African Community plant, weed, and then harvest the garden. Plants typical of West Africa are sourced by the Curatorial Gardener, and the volunteers devise a planting scheme that imitates techniques typical of the region.
PLANT RECORD SYSTEM
The Plant collection continues to be inventoried and will be an ongoing project. Site identification codes have been assigned to the planting beds in the pavilions, and will soon be completed for outside beds. A label engraver donated to Horticulture's Botany unit by Scotts Canada Ltd. has already produced outdoor quality plastic labels to permanently identify notable plant species in several pavilions. Visible plant identification will raise the profile of the plant collection to Zoo visitors and the education value of the botanical collection. It is speculated that plant identification will encourage a greater number of gardeners to visit the Zoo.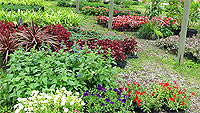 BROWSE
Horticulture staff is cooperating with the curator of invertebrates to determine the best cultural techniques for supplying sufficient insect browse all year round. A more formal browse plant nursery for the invertebrates has been established and a more reliable supply of certain browse material is expected to become available in future years as the plants mature.
The gardening staff takes an ongoing interest in providing browse to animals throughout the Zoo. In 2006 staff undertook to establish browse-able material at various areas around site in an attempt to provide more conveniently available living plant material to the animals. The nurseries presently accessed for browse are located off site and many hours are spent collecting at these remote areas. It is anticipated that a series of smaller, more accessible on-site browse nurseries will allow for more regular delivery of greater quantities of browse.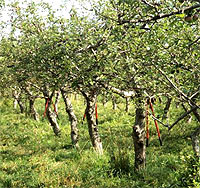 WATERWAY
In 2009 a Waterway Committee was formed and consists of Curatorial, Horticulture and Facilities and Services staff. Dave Ireland chairs the committee. The committee will sit 4-5 times per year and will report to the CEO. The committee builds upon over 20 years of knowledge from a dedicated group of veteran staff, and will work towards implementing recommendations from past studies.
The artificial waterway has a history of chronic problems associated with storm water runoff, nitrogen loading, and algal blooms notably during the summer heat. The waterway is a partially closed loop system with pumps at the terminus that send water flow back to a waterfall at the system head. Some runoff at the terminus is held in a pond at the south end of the Zoo. The system is approximately 2km long and extends throughout the tablelands of the site. Generally, water is 1-3 meters deep with some sections reaching four meters.
A Waterway Study was initiated at the end of 2004. After careful investigation and discussion with the Zoo, Harrington and Hoyle Ltd. landscape architects proposed man-made structures such as fencing to restrict movement of waterfowl, as well as dredging and wetland construction. Some recommendations from the study were implemented, and many were not. Horticulture staff restricts the use of waterway water for irrigation, particularly on turf areas accessible by the public. This study will continue to be used to plan future improvements to the waterway.
During the design of the North Zoo Site Development project, initiated in 2009 and scheduled to proceed in 2010, contractors will be advised to use techniques outlined in the Waterway Study. Due to the size and nature of this project, as well as the Zoo's high environmental expectations, we anticipate waterway improvements to be ongoing for a number of years.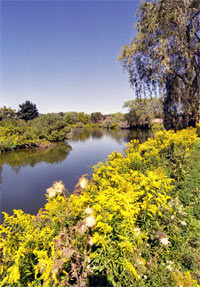 EDUCATION PORTABLE LANDSCAPE NATURALIZATION
Horticulture staff, the Adopt-A-Pond Wetland Conservation Program, the Education branch, and GEZT members collaborated on an exciting new outdoor exhibit behind the Discovery Zone, next to the Education Portable. This area was transformed into a celebration of local, native plant species, and into habitat for native animal species like toads, frogs, butterflies, birds, and insects of all kinds. The display is large and includes a "Carolinian" section, a boreal section, and a temperate deciduous zone section. Some species of plants were purchased, but many were salvaged from other construction projects and development on the Zoo site. Notably, 2 hop trees (Ptelea trifoliata), shown in the photo to the right) were found by Horticulture staff and transplanted in the emerging gardens. Hop trees are a rare tree species in Ontario, maybe only 600-800 individuals total, and are a member of Rutaceae, known as the Citrus family. The 2 individuals found and planted in the "garden" may well represent the most northern extent of the species range. As well as rare and native plants, we will be building a small wetland and restoring the riparian edge of the waterway to accommodate the colonization of native insects, frogs and birds.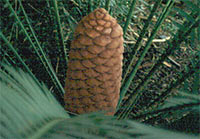 AMERICAS PICNIC AREA LANDSCAPE NATURALIZATION
As part of the North Zoo Site Redevelopment project – Phase I Tundra Trek, Horticulture staff restored a 0.6Ha parcel of forest and designed a unique picnic site for Zoo visitors. The site was cleared of invasive species, including an infestation of dog-strangling vine and replanted with our own native plants grown in the greenhouses and other native plants from local providers. Picnic tables and a limestone/mulch pathway allow visitors to eat their lunch or just have a break in a relatively secluded wooded grove! The site is now a demonstration piece for visitors on the natural ecosystems we have in Ontario.